Overlay Face Frame Cabinets
Face Framed cabinets with overlay doors. A traditional look with timeless style Hayden Bay cabinets offer the flawless appeal of handcrafted quality. These cabinets feature solid wood face frames and a wide range of smooth and consistent finishes that will ensure lasting beauty. Solid wood dovetailed drawers are always standard and are enhanced by the finest hardware available. All of cabinets are built to your specifications. With Hayden Bay cabinets, you can create a kitchen that is perfect for you.
Hayden Bay Full Overlay cabinets (top, bottom, and bulkheads) are either 1/2″ MDL or 1/2″ plywood and backs are 1/4″. All shelves are 3/4″. Drawers are dovetailed 5/8″ solid wood and the drawer guides are full extension with soft close. Face frames are made from 3/4″ solid wood. The styles are 1-1/4″ and the rails are 1-1/2″. Base cabinet top rails are either 2″ or 1-1/4″ depending on the rail selected.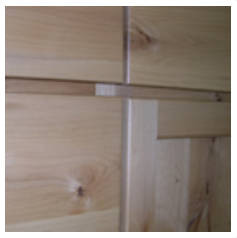 Interior options for Hayden Bay Full Overlay cabinets are either White Melamine, Maple Print Melamine, Prefinished Clear Plywood, or Matching plywood (painted, oak, etc.) to match the door style.