Green awareness is growing day by day. All 50 states have LEED (Leadership in Energy and Environmental Design) registered homes. There have been numerous groups created to certify building products as green and the Kitchen Cabinet Manufacturer Association's Environmental Stewardship Program is the main certifier of cabinets. There is a wide array of factors which contribute to environmentally friendly cabinets. A few of these factors are resource management, controlled emissions, recycling, waste reduction, responsible business practices and even community involvement. But, when a customer asks for green cabinets, there are usually three areas of concern:
Sustainably grown solid wood (for doors, face frames, fillers, etc.)
The amount of urea-formaldehyde in the cabinet box materials
The amount of urea-formaldehyde, HAPS (Hazardous Air Polutants) and VOC's (Volatile Organic Compounds) in the finish
Huggy Bear Cabinets is committed to providing natural products and processes that are earth friendly and environmentally responsible. We have made many changes in our products and processes to achieve this goal. In 2007, we cut our volatile waste 43% by distilling and recycling the dregs from our paint room. We reformulated our finish which reduced HAPS from 1.08 lb/gal to zero, VOC's from 4.81 to 4.3 lb/gal and virtually no formaldehyde. We have added Lyptus to our wood selection, which is sustainably grown (see lyptus.com).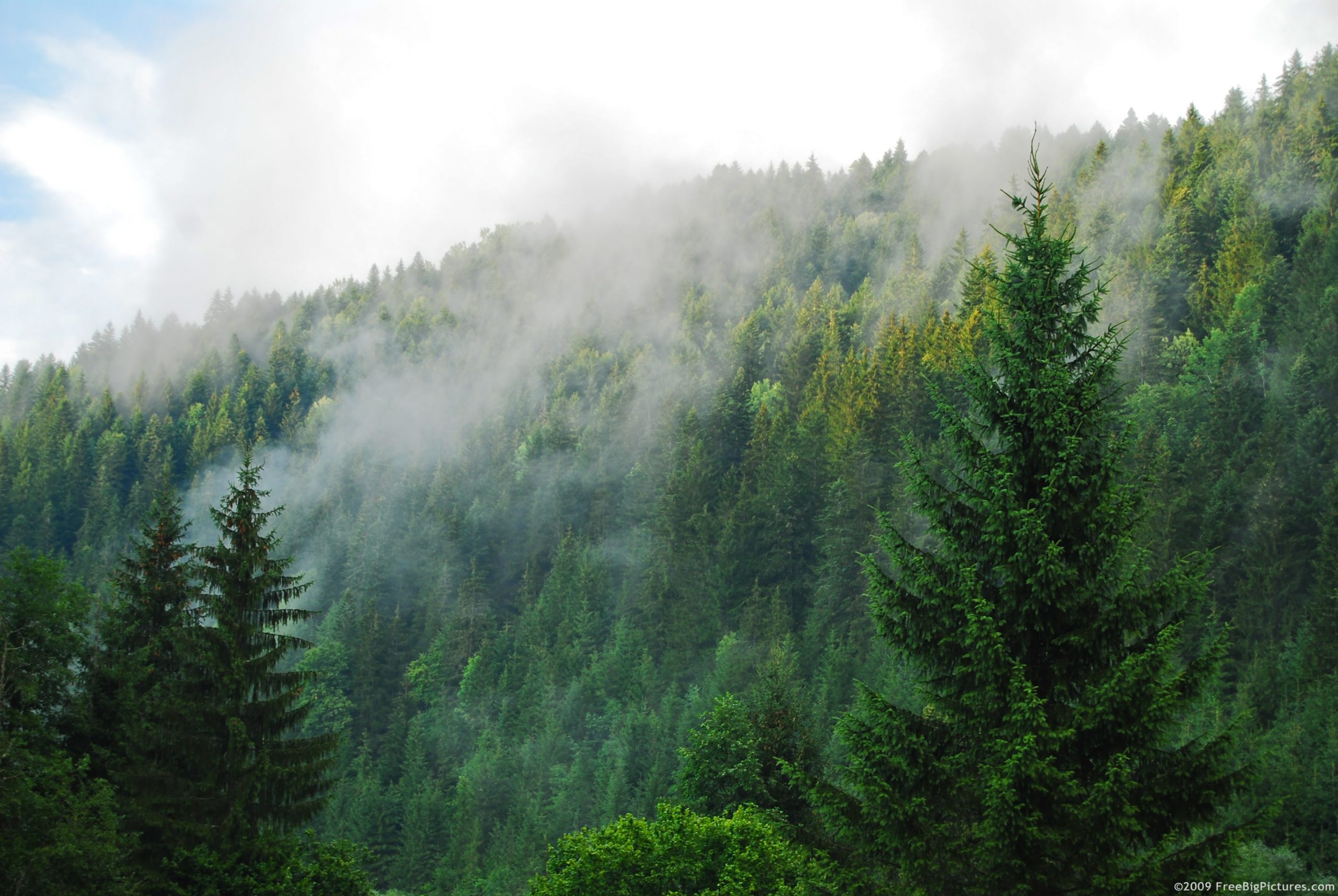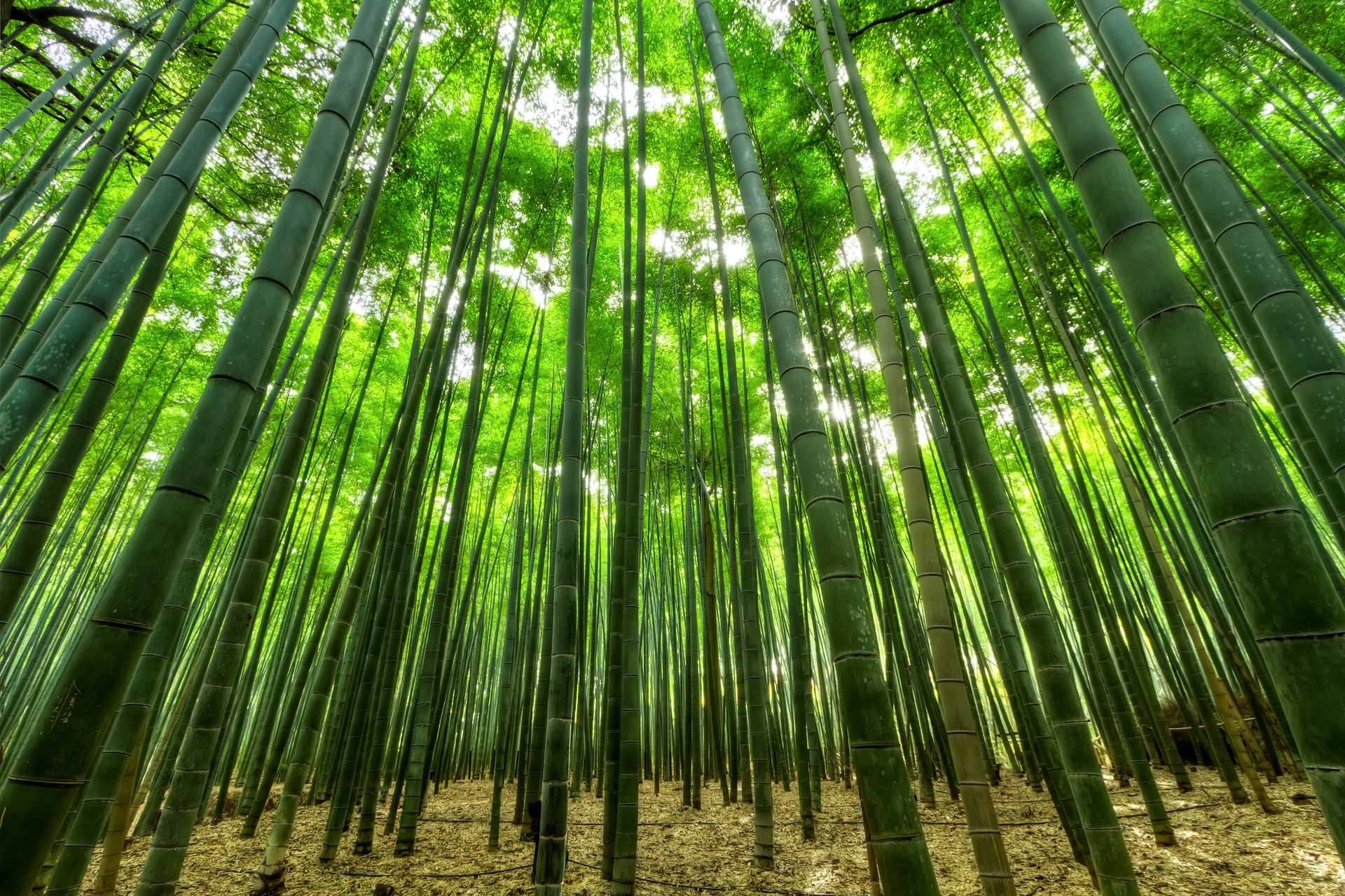 We've also included Bamboo in our Europa collection. Bamboo is a grass and is considered a renewable resource. We have met all the requirements for the KCMA's Environmental Stewardship Program and CARB (California Air Resources Board) Airborne Toxic Control Measure Phase II. We are trying to keep a balance between green materials/processes and keeping our cabinets affordable. Eventually green products will be the norm, but right now, going green can be expensive. So, at this point we are offering green options as custom items which can be added to our standard cabinets at an upcharge. This gives customers the choice of how green their cabinets will be. The chart below shows the green properties of our standard products and greener options.
We offer a NAUF prefinished plywood as a standard available interior in Shoreline. A NAUF white or maple print is a custom option.
A water based finish with no HAPS (hazardous air pollutants), very low in VOC (volatile organic compounds) and no formaldehyde is available. Our current finish has no HAPS, 4.3 lb/gal of VOC's, and a trace of formaldahyde.
In 2007 we cut our volatile waste 43 percent by distilling and recycling the dregs from our paint room.
Domestic
Even though most hardwoods in the US are not FSC certified they are increasing in volume much faster than they are being used so they are sustainably grown. According to the Hardwood Manufacturers Association, Hardwoods in the US are growing 70 percent faster than they are being harvested. The volume of hardwoods in American forests today is 90 percent more than is was 50 years ago.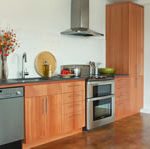 Lyptus
This loft kitchen in Portland is made with Lyptus, a sustainably grown hybrid eucalyptus tree. Click here for more information.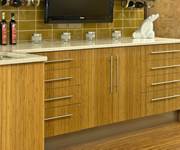 Bamboo
Bamboo is as hard as oak and can be reharvested in three to five years.
With over three decades of experience in the cabinetry industry, Huggy Bear Cabinets offers reliable, customized cabinets designed to meet the specific needs of homeowners. Take a look at these beautiful Lyptus kitchen cabinets and Lyptus bath cabinets below.
Lyptus hardwoods feature a fine grain and dramatic figure similar to mahogany. They are able to take stains evenly because of their density and have a broad color range, from light pink to dark earth tones.
The rapidly renewable hardwoods are grown on third-party certified plantations and are ready for harvest in an average of only 15 years, compared to 80 to 100 years for other hardwoods.
Lyptus is Innovative, Beautiful, and Unique, and is suited for a wide array of applications, including cabinets, furniture and architectural millwork. It is available as high-grade lumber, veneer and flooring.
Veneers are available as flitches for custom applications and layons for plywood, either plain or quarter sliced, with a limited availability of special flitches, including quartered figured or Pommele.
Find out more about Lyptus wood at Lyptus.com