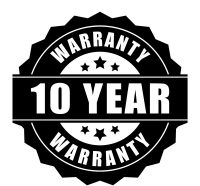 This Limited Warranty is the exclusive warranty granted by Huggy Bear Cabinets (hereinafter HBC.)
HBC warrants that its products shall be free from defects in materials and workmanship for a period of 10 years from the date of shipment. This warranty is limited to the original retail purchaser (hereinafter purchaser) at the original site of installation. This warranty applies to residential applications only and is non-transferable. It is conditioned by the purchaser's proper handling of products after delivery.
This warranty is given in lieu of all other warranties, expressed or implied, including warranties of merchantability and fitness for a particular purpose.
If defects in materials and / or workmanship of a product (s) should appear, the purchaser must notify the HBC dealer from whom it was purchased or, only if this is no longer possible, HBC, during the period of this warranty, specifying the nature and extent of the defects. HBC's sole obligation is, at its discretion, to either repair or replace the defective product at no cost to the purchaser. HBC shall not be liable for labor, transportation or other charges for adjustments, repairs, removal, installation or other work which may be done upon or in connection with HBC products by the dealer, his agents or others.
This warranty applies to manufacturing defects only. It does not cover normal wear or apply to products which have been subject to an accident or have been misused, abused, neglected, damaged by improper cleaning solvents, exposed to extremes of moisture, humidity or temperatures, modified, improperly handled, shipped or installed, or used for any purpose or in any way not originally designed and intended by the manufacturer.
Replacement products may not exactly match the original products due to the passage of time and natural aging of wood or changes in availability of materials.
Wood, being a natural substance, has inherent characteristics such as mineral streaks, pin knots and varying hues, colors and grain patterns. Fluctuations in the inherent characteristics are not considered manufacturing defects nor are naturally occurring color changes due to the aging of wood and / or exposure to various light sources.
This warranty does not cover products or parts not supplied or manufactured by HBC and only apply to HBC products purchased through an authorized HBC dealer.
HBC shall not be liable for any direct, indirect, incidental or consequential damages arising from any defects in its products. HBC's sole obligation is to remedy any defects in the manner described above. HBC does not assume, nor authorize any person to assume for it, any liability in connection with the sale of its products. No HBC dealer, agent or employee has the authority to create any additional warranty or increase the scope of this warranty.
Some states do not allow limitations on the existence or duration of implied warranties and do not allow exclusion nor limitation of incidental or consequential damages, so the above limitations or exclusions may not apply to you. This warranty gives you specific legal rights. You may also have additional rights, which vary, from state to state.